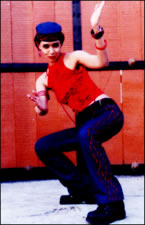 Philosophy has always been my first love, and it will be that way till the end of time. I also love walking, swimming, cycling and dancing the night away. One of my biggest weaknesses is talking to my friends on the phone. I can spend hours and hours and not know where the time went!
Health and fitness are integral parts of my life. I love reading up on natural ways to keep fit and active. Yes, I am a health food freak. Vegetarian since the age of 11, an eternal non-smoker, and a non-drinker by choice. But chocolate? That is an essential part of my diet... something I cannot live without. A medical necessity.
I also love traveling... especially to places where I can learn something about the meaning of life. If two weeks go by and I have not gone anywhere, I start getting restless. I would love to explore India more. India has so much to offer.
I also love to just be silly and crazy and laugh and laugh and laugh. There has to be some time where there are no rules... and you can just let go. Soooooooo much fun.
Some Favourites:
• Shri Shri Radha Rasbihari (Radha and Krishna) from the Hare Krishna temple, Juhu
• Colours: Mango and Peach (sounds more like fruit!)
• Food: Pasta
• Sweet: Kheer Kadam from Bengal
• Book: The Bhagavad Gita as printed by The Gita Press, Gorakhpur (a must-have for everyone!! Only Rs. 8!! It is a User's Guide on life. I guarantee it.)
• Music: Kirtan
• Role Model: Hanumanji